Lucy Style Portraits & Sketches
Ever dreamt of being an octopus?  Who hasn't?!
Now's your chance to get a bespoke portrait of yourself, your friends or family, Lucy the Octopus style.
These black and white drawings have gone down well at comic shows (see below) and now you can get one drawn and sent to your home…
A full colour option is also available…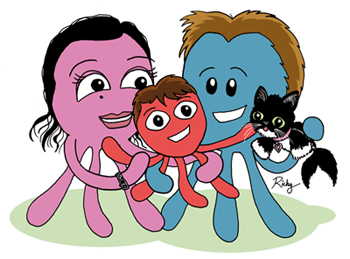 For a portrait please email me a photo or two that you think best represents you / the subject of the portrait.
Please note any details you particularly want included.
CHARACTER SKETCHES
You may like a unique drawing of Lucy, Puffy or any of the characters from the Lucy the Octopus strip.
Alternatively you might prefer another character or group of characters drawn Lucy the Octopus style…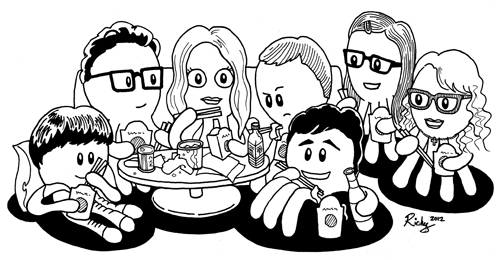 COSTS / PAYMENT
Artwork (exclusive of P&P)
People / Characters
in Each Portrait
Black & White Black Ink Pen
Full Colour
Black Ink Pen then Coloured in Photoshop
1 Person / Character
£10.00
£14.00
Each Additional Person / Character
£6.00
£10.00
Let me know if you'd like an variation on these (e.g. watercolour) – I'll try to sort that out for you.
Postage & Packaging
Drawings are posted flat in a board-backed envelope.
A digital file of your drawing (JPEG) is included free for everyone.
Digital Only
JPEG file of drawing emailed
UK
Posted 2nd Class
Europe
Posted Airmail
Rest of  World
Posted Airmail
1-2 People / Characters(A5 paper)
-Free-
£0.99
£1.68
£2.48
3+ People / Characters(A4 paper)
-Free-
£1.49
£3.49
£4.49
Payment
Please email me with details of your commission and pay by Paypal to richy@tempolush.com.
Please note, you do not need a Paypal account to pay by Paypal.
Please let me know if you require an invoice.
If you have any queries feel free to email me.
Payment must be received before I can start drawing your commission.
I will email you a finished jpeg in high res and if requested post the original once the illustration is completed.
Drawings are created for personal use only, not for commercial use.  If you wish to contact me about a commercial commission please email me.
Drawings will be sent out within 5 working days via 2nd class post.
If for some reason, I am unable to deliver your drawings as above, I will contact you directly with advance warning.
If you need the drawing sooner, please let me know and I'll do my best to accommodate your needs.
Commissions are non-refundable and drawings are non-amendable. However, if your delivery is damaged please contact me immediately and I will arrange for the drawing(s) to be re-sent if appropriate.
I (Richy K. Chandler) retain the copyright of the drawing/design.  I will not resell the design but may display it on my websites or as bonus material in my printed comics.  Please let me know, prior to me doing the work, if this is a problem.