Lucy the Octopus tells the story of a teenage girl facing verbal abuse and ostracism.  Comedy gold, yes?!  Fortunately for Lucy (and for the strip which would be pretty depressing otherwise) she has a pufferfish for companionship, music for escapism and Chunky Muffin Shakes for much needed sugar rushes.
Originally Lucy was intended as a cast member of my first self-published comic, Delicate Axiom.   Instead she made her debut in her own 2007 mini comic.

People call me Richy K. Chandler (because it's my name).
I write for the Wallace & Gromit newspaper strip and am co-creator of Rosie and Jacinda.  As well as making comics I am an illustrator, designer, musician and toaster of bread.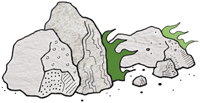 Find out more awe-inspiring facts about me here.